Services

Background Checking

Before Relationships

Fact Gathering

During Disputes

Internal Investigations

After Allegations

About

Latest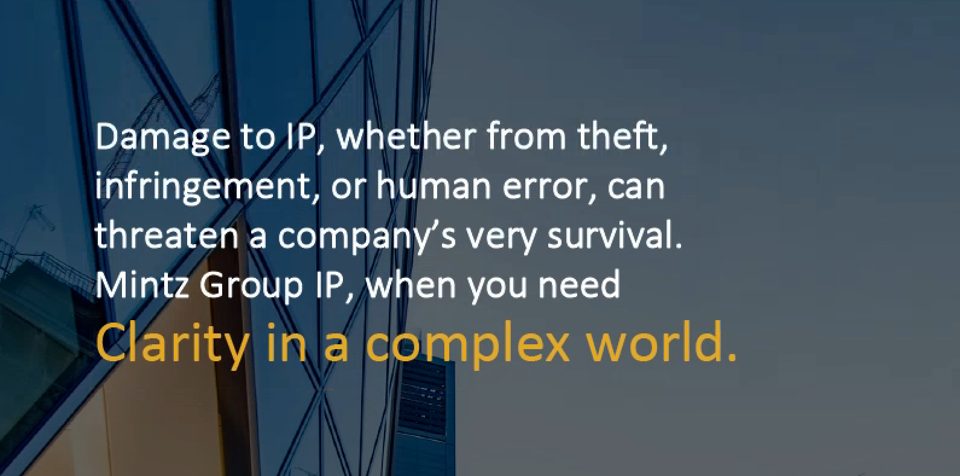 As technology continues to reshape the world, there are complex IP related problems that need solving: counterfeiting in the online marketplace, the anonymity and global reach that the internet offers fraudsters, and the impact of blockchain.
For more than 25 years, Mintz Group has partnered with the top global law firms and the world's largest brand-owning companies to provide investigative and IP-related solutions including:
• Theft of trade secrets
• Investigations into trade mark use
• Illicit trade across multiple jurisdictions
• Anonymous acquisitions and proxy services
• Investigating unauthorised agents
• Impact of IP infringement & thefts
• Domain names
• Common law searches
• Prior art research
• Cross border tracing: counterfeits & grey market products
To learn more or to talk with a Mintz Group IP specialist.
Mintz Group uses the contact information you provide to update you about our services. You may unsubscribe from these communications at any time.
IP investigations engagements are customised to meet every client's needs.
Mintz Group has experience across multiple industries, globally. To learn how we can help with your IP challenges, email: info@mintzgroup.com
Protecting a Global Fashion Brand
We provided investigative support to a global brand protection campaign, including identifying and monitoring sales channels, tracking counterfeit goods and mapping supply chains, making test purchases, and investigating multiple counterfeiting rings across four continents, mainly in Europe. Our work contributed to legal actions in 15 countries and evidence given in multiple venues.
Anti-counterfeiting for Tech Firm
Working for a European technology company, we supported its anti-counterfeiting unit focused on identifying the epicentre of an organized crime network copying its technology. Working with the client to develop human sources from its legal actions, we provided actionable intelligence on production and distribution of counterfeited products. We worked closely with the client's team in gathering, analysing and prioritising intelligence leads to inform surveillance and sting operations leading to disruption actions resulting in seizures and arrests in Europe.
Reduced Sales at Beverage Company
A drinks industry client was experiencing a significant reduction in sales in the MENA region as a result of the presence of counterfeit spirit. Mintz Group IP conducted a covert investigation in extremely challenging conditions in Iraqi Kurdistan, deploying covert human intelligence sources at significant personal risk. We were able to identify the parties responsible for the production, enabling our client to lobby at the highest levels of government for local action to be taken.
Mintz Group, when you need clarity in a complex world.
Mintz Group IP Experts


To learn more or to talk with a Mintz Group IP specialist, email: info@mintzgroup.com