On September 13, 2019, Pablo Fernandez walked out of a Manhattan courtroom a free man after spending 24 years in prison for a murder he did not commit. The Mintz Group was instrumental in winning Mr. Fernandez' freedom.
Beginning in August 2009 and continuing over the next 10 years, the Mintz Group worked side by side with the law firm Paul Weiss to exonerate the firm's pro bono client, Mr. Fernandez, who in 1996 was convicted of a drive-by shooting in upper Manhattan and sentenced to 25 years to life in prison.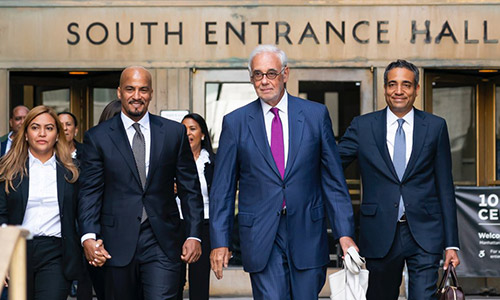 Mr. Fernandez' conviction was based on the perjured testimony of teenage eyewitnesses and drug dealers testifying under cooperation agreements with the Manhattan DA's office.
In February 2019, after Mr. Fernandez had spent nearly 25 years in prison, the U.S. Court of Appeals for the Second Circuit overturned his conviction, crediting a key eyewitness' recantation of his trial testimony identifying Mr. Fernandez as the shooter. The perjury was uncovered during a 2009 interview by a Mintz Group investigator; the witness confessed that he had lied at trial when he identified Mr. Fernandez and had done so because the police had bullied him into making the false identification.
Despite the Second Circuit's finding that Mr. Fernandez' conviction was based on the perjured testimony of a prosecution witness, the Manhattan DA's office decided in April to attempt to retry Mr. Fernandez. Several months later in September, as the Mintz Group was interviewing additional witnesses, the DA's office belatedly moved to dismiss the indictment against Mr. Fernandez and New York Supreme Court Justice Curtis Farber granted the motion.
The Mintz Group is proud to have helped Mr. Fernandez win his freedom and return to his family and friends.
Andy Melnick, a partner and the firm's General Counsel, led the Mintz Group's 10-year effort. His investigative team included Mintz Group Director William Richnow; Senior Investigators Lydia Dallett, Nina Chausow and Adam Eisman; Investigators Camillia Fayyazi and Kelsey Muniz; and retired Investigator (and former NYPD Captain) William Kenny.