Services

Background Checking

Before Relationships

Fact Gathering

During Disputes

Internal Investigations

After Allegations

About

Latest
Clarity in a complex world.

Mintz Group, a proud AESC partner for more than 10 years
AESC members receive preferred pricing on all Mintz Group services. As a special offer, Mintz Group is offering a free social media check to all AESC member firms. If interested, please speak with one of the Mintz team members at the AESC Global Conference or write to info@mintzgroup.com.
Attending today's AESC Forum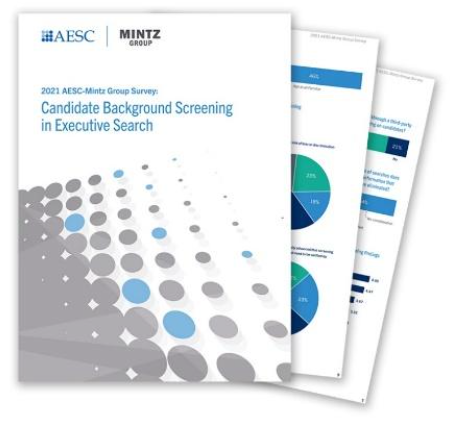 Exclusive: The State of Executive Background Checks
This report, which will become an annual collaboration between Mintz Group and AESC, examines the state of background screening in executive searches, including what complaints and investigations raise red flags among AESC member search firms; approaches to background screening and who conducts them; challenges and consequences of the scope of background checks on an executive search; and the impact of technology such as AI on investigations. Download the report here.
What do you think?
Following are some webinar topics. About which one(s) would you like to hear from us most?
Keep In Touch
Want more information and insights from Mintz Group? Sign up for our newsletter.
Articles
• How a Background Check Missed a Man's "Very Long History Abusing Women"
• Sexual Misconduct: Spotting Harassers Before They Come in the Door
• Transparency in Investigations: 5 Questions to Ask an Investigator
• When Background Screening an Inside Candidate, You Might Want to Check Your Own Files
• Background Checks Beyond the Public Domain